iEFIS® Touchscreen
EFIS / EMS / NAVIGATOR
Hover Over Circles On Image To Learn More
Comprehensive flight engine
& navigation instrument
iEFIS combines the undeniable advantages of simplified operation that a touchscreen can offer with rich traditional controls that are equally indispensable in the cockpit environment
iEFIS Standard
The standard iEFIS system has 2 screen sizes available.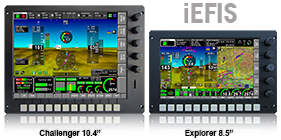 Up to 8 screens are connected together via EFIS LAN
Uses the iBox For Air Data and GPS
Uses ARINC for external Navigator CDI information
Controls 2 COM Frequencies
Controls 1 NAV Frequency
Controls Transponder
Select Regular iEFIS when:
You require a multi-screen panel with full interconnectivity between all screens
You require multiple RS-232 devices with full access/control of these devices by all screens
You require multiple additional analog inputs
You require an ARINC interface
You require a high airspeed (above 250mph)
You require Angle of Attack
iEFIS Lite
The iEFIS Lite is available in three sizes.

Up to 2 screens (can transfer altitude and basic functions)
Air Data built in
Attitude sensor built in.
GPS Built In
Controls 2 COM Frequencies
Controls 1 NAV Frequency
Controls Transponder
Select iEFIS Lite when:
You require a single screen (or very simple 2-screen panel)
You are looking for the easiest installation available
You are looking for the best bang for your buck
NOTE: You can add the iEFIS Extender to add AOA, 4 additional RS-232 ports and multiple analog inputs to one Lite EFIS
iBOX
The Heart of the iEFIS
The iBox is the heart of the iEFIS system, and the conductor in the symphony of communication between all system devices and the iEFIS screens. The iBox contains the GPS engine (with antenna connection), the pitot/static sensors and Angle of Attack sensors. The iBox is the hub of communication for all the system devices (AHRS, RDAC, Autopilot Servos) and is also the hub of communication with all third party devices (radios, transponders, ADS-B, VP-X) via its RS-232 and ARINC interfaces.
One iBox is necessary in every iEFIS system, and in cases where maximum redundancy is required, a 2nd iBox can be added to the system. The 2nd iBox acts as a 'hot standby' and is ready to take over all iBox tasks automatically when necessary, or on command by the pilot.
The iEFIS offers comprehensive engine monitoring for any engine. All engine data is captured via our RDAC (Remote Data Acquisition Computer) that mounts near the engine (in front of or behind the firewall). This data acquisition computer then sends all sender data to the iBox via the CAN Bus Network. No wiring harness for engine senders required!
The iEFIS can support up to 4 RDACs. Each RDAC could be used for a different engine, or in cases where additional inputs are required (such as monitoring a 9-cylinder radial, or a non-standard application), additional RDACs can be used to expand the monitoring on a single engine.
There are 5 RDAC options for the iEFIS system:
RDAC XF – All engine functions with 12-channels for thermocouples (CHT/EGT)
RDAC XF MAP – All engine functions with 12-channels for thermocouples and manifold pressure (MAP)
RDAC XG – Lightweight/low cost RDAC with 4 thermocouple channels. Best used for water-cooled 4 cylinder engines. Up to 4 can be used
RDAC CAN 912iS – Monitoring of the Rotax 912iS Engine directly from the ECU via CAN (up to 2 of these can be used)
RDAC CAN ULPower – Monitoring of ULPower FADEC engines directly from the ECU via RS-232 (up to 2)
For Lycoming/Continental installations, the only choice is whether or not you want to monitor Manifold Pressure (RDAC XF or XF MAP).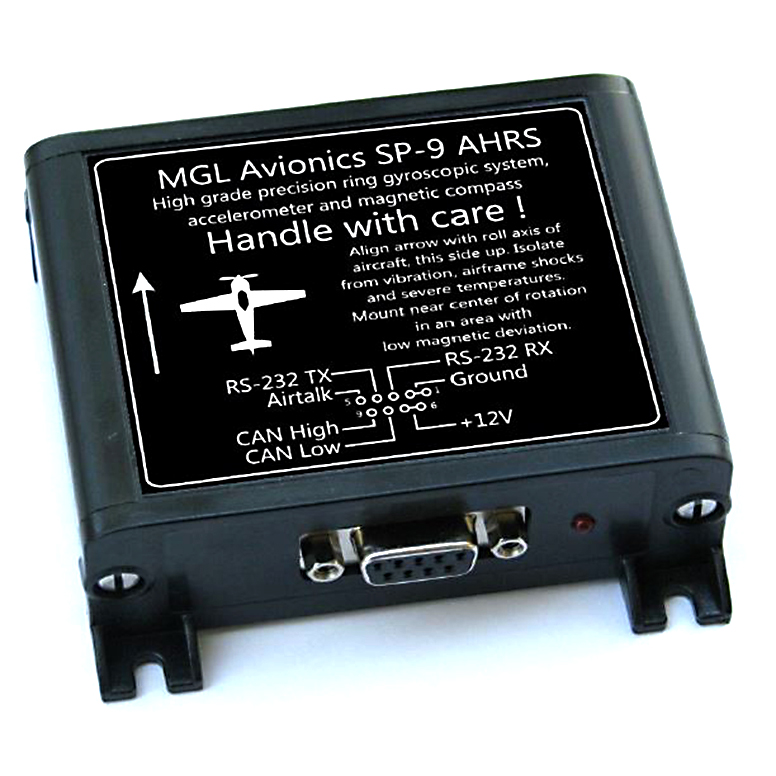 The latest MGL Avionics SP-6 CAN and SP-7 CAN AHRS (and SP-9 AHRS) sensors can be used with the iEFIS. (The iEFIS Lite includes an onboard attitude sensor so only SP-6 Compass is required – although an SP-7 can still be added if necessary). The AHRS sensors connect to the iBox (or Lite) via the CAN Bus. You can use up to 2 SP-6 Compass sensors and 4 SP-7 Attitude sensors with each iEFIS system if redundancy is required. The iBox gets information from all sensors and uses the best data it has to come up with an attitude/heading solution.
Built In Autopilot
Just Add Servos
The MGL Avionics iEFIS (and iEFIS Lite) contains a built-in autopilot. All you do is install our servos in the aircraft and the control and AP engage/disengage is handled directly by the iEFIS using the keypad, or via a remote switch. No other control modules are required.
The Servos connect to the iBox via the CAN Bus network like all other system devices.
The EFIS handles all autopilot controls so that once you have engaged it, it will couple with any navigation source you select from that point on seamlessly. There is no need to change modes.
You can press on the Autopilot control on the touchscreen and then select the first Engage option for straight and level flight. This will sync altitude and heading bugs and maintain course and altitude. If if you then select a GPS Goto, it will switch over to the new Navigation mode automatically.
If you select the 2nd Engage mode (Active Nav and Vertical Mode) it will use the selected lateral and vertical modes you have preset:
When you engage HSI for lateral steering, it will follow the active HSI selection.
There are 5 Vertical modes to choose from, including Altitude Hold, Altitude Preselect, VSI Hold, Flightplan Vertical Nav, and Pitch attitude hold.
There is also an emergency ALT Hold, 180 degree turnback to get you out of trouble if you accidentally lose visual reference when flying near weather.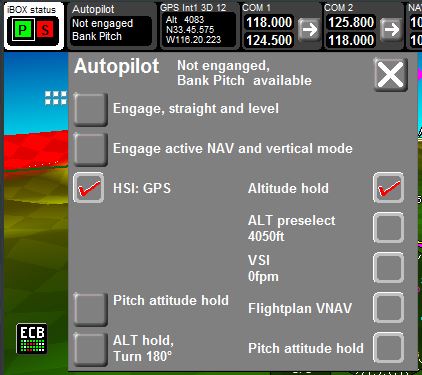 Moving Map GPS Navigator
WAAS Capable GPS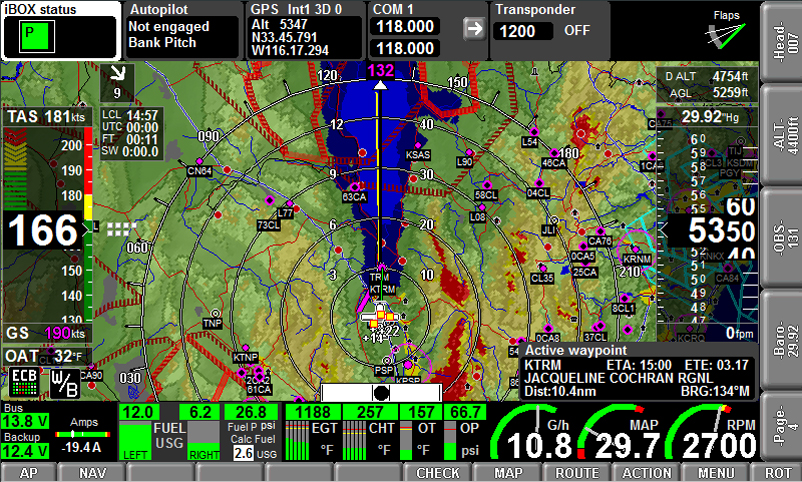 The iEFIS features a 50-channel WAAS-capable GPS receiver (with RAIM), with a host of moving map navigation features. All GPS databases are from freely available sources, and are editable by the user where applicable. Jeppesen NavData is also available worldwide as a subscription service, as well as PocketFMS.
Airports/Navaids/Airspace/Obstacles database
From free sources (such as the FAA) or from Jeppesen/PocketFMS. Includes runway information and frequency information and obstacles. Entire world available.
Terrain
In GTOPO format – freely available. Worldwide Available.
World Vector Basemap
Major roads, rivers, borders, cities and towns for the entire world.
Raster
Any scanned image (or digital Sectional file) can be used after processing with our Map Maker software.
All of these layers (except raster) are shipped installed with each EFIS.
NAV Softkey Function brings up various options including the Nearest Airport function. From these menus you can find airport information, runways, frequencies and then Goto an Airport/Navaid/Fix.
Route Function allows you to activate routes from the SD card (created in our Flight Planner software or by Seattle Avionics Voyager) or create routes directly in the iEFIS. Routes can be built just by touching airports on the screen – easy as pie!
The touchscreen brings flight planning to life! Click any airport or point on the map and you can instantly see how far it is away from your current location and time to waypoint. One more click and you can Goto that waypoint.
IFR and VFR Navigation
Capable of navigation with internal or external GPS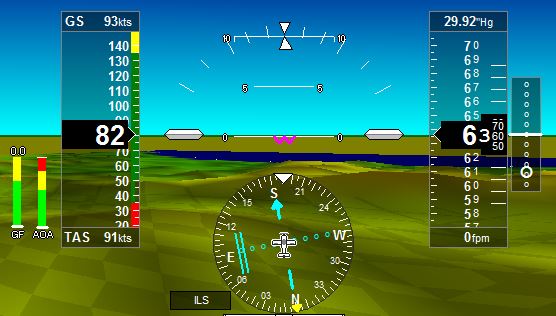 The iEFIS can interface with the Garmin SL30/40 Compatible Nav/Comm units and display active and standby navigation on the screen with a VOR/Localizer/Glideslope indicator. Also compatible with ARINC 429 Navigators including Garmin GNS/GTN Navigators as well as Avidyne.
Alternatively, your MGL Avionics EFIS can 'fake' radio navigation using only its onboard GPS and its database of VOR stations. We call this GPS VOR (GVOR). For airports where we have the coordinates of both runway thresholds (most airports) we also draw a VFR glideslope (you set the glide angle an x-distance down the runway for touchdown). We call this GPS ILS (GLS) navigation.
GVOR
Using the NAV Softkey at any time you can view nearest GVOR stations. HSI will display GVOR radial to current position and will show GPS DME.
GLS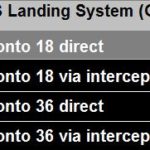 Use the NAV Softkey to select Nearest Airports. Runways with a GLS approach available will be labeled 'GLS'. Select the runway and the approach and then follow the green crosses to landing…
3D Synthetic View
Also With Highway In The Sky
The iEFIS features 'floating box' Highway-in-the-Sky (HITS) navigation as well as providing the user with a 3D depiction of the outside world for situational and terrain awareness.
3D Views show you the elevation of terrain that is at your altitude and above as well as obstacles on the moving map and on the 3D View, so that you don't run into anything when flying near terrain. See airports well ahead of  time, a flag drawn above airports ahead of you with Time and Distance to airport guide you like street signs on a freeway. Upon arrival you will get to see 3D runways, with thresholds labeled so you know you are approaching the airport as planned: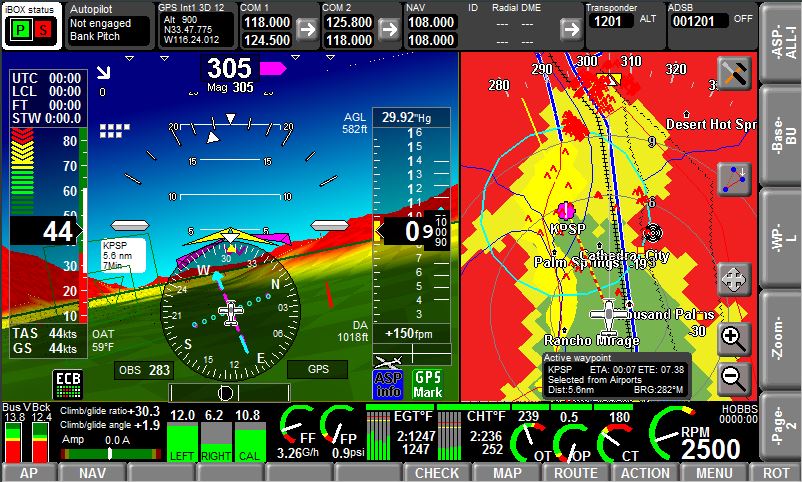 Traffic & Weather
Stay Alert While Flying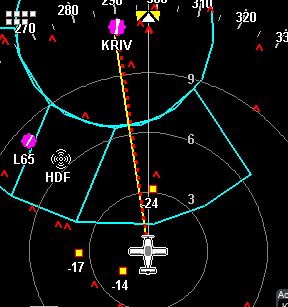 The iEFIS can monitor traffic from several sources via the RS-232 or ARINC 429 interfaces and will display traffic on the moving map and with visual and voice alerts.
"Traffic, 10 O'clock, High!"
The following systems are supported:
uAvionix ADS-B

(and other GDL90 Serial devices)
The next generation in accurate GPS-based traffic monitoring. With very good coverage over much of the United States, this is the best solution for traffic monitoring if flying in an area with ADS-B coverage.
FLARM
GPS-based system used a lot in the glider community.
Weather
The iEFIS can display ADS-B Weather in the form of radar overlays, METARs, TAFs and on-map VFR/IFR symbols for airports while in flight.
At present the uAvionix ADS-B Transceiver is supported.
Voice Alerts & Copilot Mode
Airspace - iBox - Air Speed
Audible Alerts – Airspace Ahead!
The iEFIS has a built-in voice alert system. In the alarm setup you can choose the following alarm outputs for each item:
On screen warning
iBox Alarm Out External contact (panel master caution light or buzzer)
Audio voice alert
The EFIS will also give you airspace warnings, speed warnings, traffic warnings and any warnings setup by the user.
Copilot Mode
The iEFIS 'Copilot Mode' allows you to setup the EFIS to call out airspeeds whenever you get below a predetermined airspeed. You can select the time interval for these airspeed callouts.
Copilot Mode allows the pilot to keep his/her eyes outside the cockpit on landing and still keep a good awareness of airspeed.
65… 62… 60… 58… 57…
Customize Your Screen
The Most Flexible EFIS in the World
The iEFIS (and iEFIS Lite) ships with nicely laid out standard screen page layouts. There can be up to 9 page views and these can be toggled by rotating the Page rotary control. You can choose from our standard screens (the unit ships with 5 predesigned screens) or you can use our free PC-based iEFIS Simulator and Designer editing software to design unique screens. Hundreds of highly configurable instruments and display items in various forms are available to choose from. From traditional analog gauge displays to bargraphs, digital readouts, horizons, HSIs, moving maps, etc. The choice is yours! And if you don't want to get too involved, just keep the standard screens, or contact us to design a special screen for you. What this means to the pilot is that you can have ANYTHING you want displayed on the screen in ANY WAY!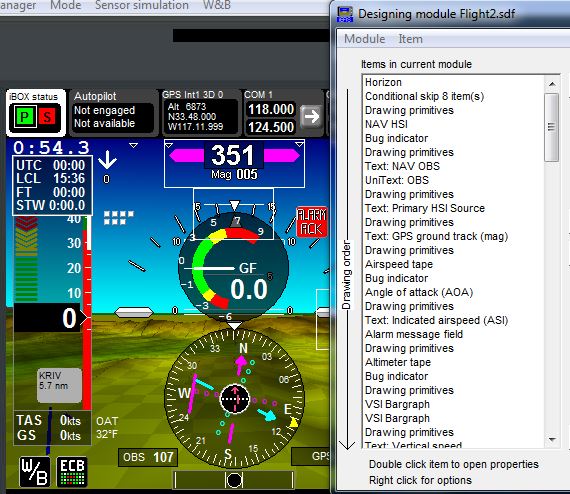 Here are some examples of the standard screens that ship with the EFIS, that show you what is possible:
External Video Input/Output
System Expansion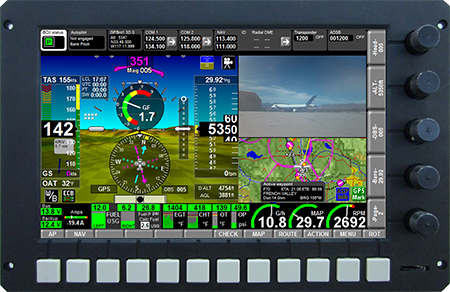 Each iEFIS Display has 4 independent NTSC/PAL video inputs and a VGA output
Video Input
The 4 video inputs allow you to connect FLIR systems or small inexpensive video cameras to the EFIS. You can display these video inputs on the screen as small picture-in-picture insets, or as full screen images (remember, you have 9 pages you can setup individually on the iEFIS). You can also toggle through the different video inputs. AND, you have the ability to use the video as the background of your AHRS/PFD display (can toggle on and off). This is particularly useful when using a FLIR at night or when flying an aircraft with poor forward visibility (approach 
Typical uses of the external video input function are:
Taxi Cam for taildraggers
Approach Cam for aircraft with poor forward visibility
Rearview Cam for helicopters
Engine Compartment Cam for engine monitoring
VGA Output
The iEFIS is very slim and is also affordable enough to easily put one in the back seat of a tandem aircraft, or the back seats of a 4-seater. However, we provide an additional option for users wanting to have additional displays…Each iEFIS Display has a std VGA output that allows you to connect any off-the-shelf VGA display (like a PC monitor, or automotive DVD screen for example) to the iEFIS as a repeater screen. So, for about $500 or less you could give 'the guy in the back seat' a complete display of the EFIS. He sees what you see! Almost like a dual iEFIS, but for the price of one. You could have 2 full iEFIS displays in the front seat and then a pair of repeaters in the back.
Compare The iEFIS Systems
iEFIS - iEFIS Lite - iEFIS MX1