The Vertical Power VP-X Electronic Circuit Breaker System gives you an unprecedented level of detail and control of your electrical system, while at the same time greatly simplifying wiring. With flap, trim and other functions built right into the VP-X, you just wire directly from the VP-X to each electrical device. You no longer have to install circuit breakers, bus bars, relays, trim and flap modules, shunts, e-bus diodes, or other complex wiring on the back side of the instrument panel.
VP-X Advantages
Wire from the VP-X directly to each electrical device
Detect short circuits, over-current faults, open circuits (no current draw)
User-configurable circuit breaker values for each circuit
Backup circuit capability for critical avionics
Solid-state design – no arcing, no moving parts
EFIS Integration
Visually monitor the health of your electrical system
View and control the status of individual circuits
Immediate notification of circuit faults with the ability to quickly respond
Displays for individual and total current draw, main battery voltage, aux battery voltage (if installed), trim position, flap position, and starter engagement
Flap Control
Built-in solid-state flap motor control
Intermediate flap stops or momentary control
Flap over-speed warnings
Flap motor run-on protections
Disable the flap down switch above a specified airspeed
Backup flap controls on the EFIS
Flap position display on EFIS
Trim Control
Built-in solid-state trim motor control
Runaway trim protection
Variable-speed pitch trim based on airspeed
Backup trim controls on the EFIS
Trim position display on EFIS
Switch Inputs
Each switch is configurable to control one or more electrical devices
Flexibility to use any style of panel-mounted switch
Wig-wag Control
Built-in landing light wig-wag control
Adjustable warm-up period
Landing lights, when turned on, are steady on the ground then automatically pulse when the aircraft is in the air
Alternator Protection
Alternator over-voltage protection
Single or dual alternator support
Starter Protection
Starter disable when engine running
Starter engaged annunciator on EFIS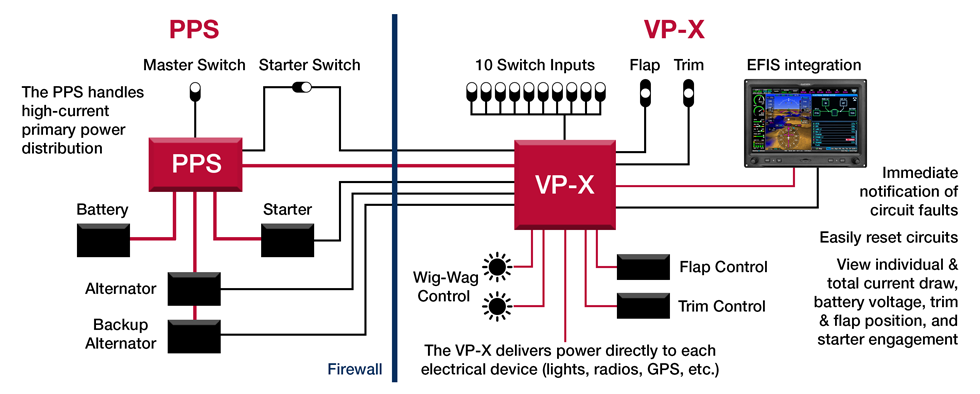 Interfaces
The VP-X requires an EFIS for alarm and status display. The currently supported systems include:
• Advanced Flight Systems 3400s, 3500s, 4500s, 5500s, 5600s
• Grand Rapids Technologies HX and Sport SX
• MGL Avionics Voyager/Odyssey Gen II/MGL Avionics Xtreme
• Garmin G3X
• Dynon Skyview
Software Updates and Setup
Software updating and system configuration are performed using a PC application that runs on Windows and connects to the VP-X via an Ethernet cable.
Weight Analysis
The VP-X weighs 1.9 pounds. Depending on the aircraft and the way it is outfitted, the VP-X comes in about net-neutral or a few pounds of weight savings.
NOTE: All Vertical Power orders are subject to a 2-week factory lead time